Join Us For Our FREE 2-in-1 Karma Busting & Miracle Manifestation Intensive this Saturday (14 July 2012, 9 am to 1 pm, RELC Hotel, Singapore)
July 10, 2012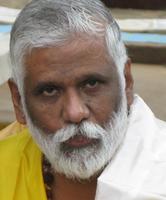 Namaste everyone,
As karma busting/karma clearing is a key foundation of Dr Pillai (Baba)'s teachings to ensure your material and spiritual progress, we thought it is timely to organise a Karma Busting & Miracle Manifestation Intensive to give an opportunity for all of us to come together and do some practical hands-on karma busting!
As you may have read in a
recent post
,
karma busting
is an ongoing process each of us has to carry out if we want to stop living a mediocre life and in order to accelerate our personal material and spiritual evolution.
When we are karma busting, we are essentially removing the many layers of negative karmas we have accumulated over countless number of lifetimes.
Why would you want to remove your negative karma?
Besides being a tremendous road-block to your own spiritual and material evolution, such accumulated karmas blind you from realising your true divinity i.e.that you are LIGHT.
The Karma Busting & Miracle Manifestation Intensive is going to be a very much practical hands-on session where you will get to work with a variety of Baba's karma busting techniques and do some serious personal karma busting. There will be a mixture hands-on rituals for you to carry out during the Karma Busting & Miracle Manifestation Intensive itself and also meditations from Baba to dissolve your karma at a deeper molecular level.
After karma clearing, you would have created a divine space for miracles to flow into your lives, so after karma clearing, we will devote time to work with Baba's manifesting techniques to attract and manifest our goals and desires.
Baba's love and compassion for His students are never-ending and this Karma Busting & Miracle Manifestation Intensive will be FREE. We will provide all the necessary ritual items and materials (includin limes, roses, paper plates etc).
On your part, all you need is a burning desire for change and to transform your destiny for the better.
Here are the Intensive details:
Date: 14 July 2012
Time: 9 am to 1 pm
Venue: Regional Language Hotel (RELC) along Orange Grove Road, Singapore.
Cost: FREE
Seats available: 108 seats
With love,
Vijay